Happy Spring Everyone!
On behalf of the entire Heating the Midwest Steering Committee, we would like to thank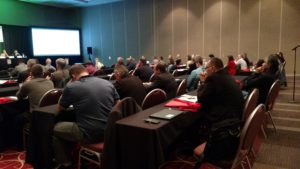 those who were able to participate in this year's 2017 Heating the Midwest event that was co-located with the International Biomass Conference and Expo in Minneapolis earlier this month. As always, it provided an excellent opportunity to hear and learn about the latest happenings in the biomass thermal and combined heat and power sector. It was nice to meet and network with many of you as we continue our work in advancing the industry forward.
Those on-hand heard about the suite of activities taking place in the areas of state and federal policy, deployment case studies, opportunities for unique applications, as well as approaches for system design. The day was packed full of valuable insights and productive conversations that has all of us energized to further the growth of biomass heating in the Midwest!
This time together also offered the Heating the Midwest Steering Committee the opportunity to meet in-person to discuss how we can continue to advance the mission of Heating the Midwest and deliver further value to all of our stakeholders. As an organization that is volunteer-driven, we aspire to further grow our network and influence. In order to do so, please consider joining our effort as a Steering Committee member, Action Team participant, or by making a meaningful contribution
here
to support the work of Heating the Midwest!
Thanks again for your continued engagement and hope you enjoy the renewal that springtime brings!
Gregg Mast
Steering Committee Member
Heating the Midwest Inc.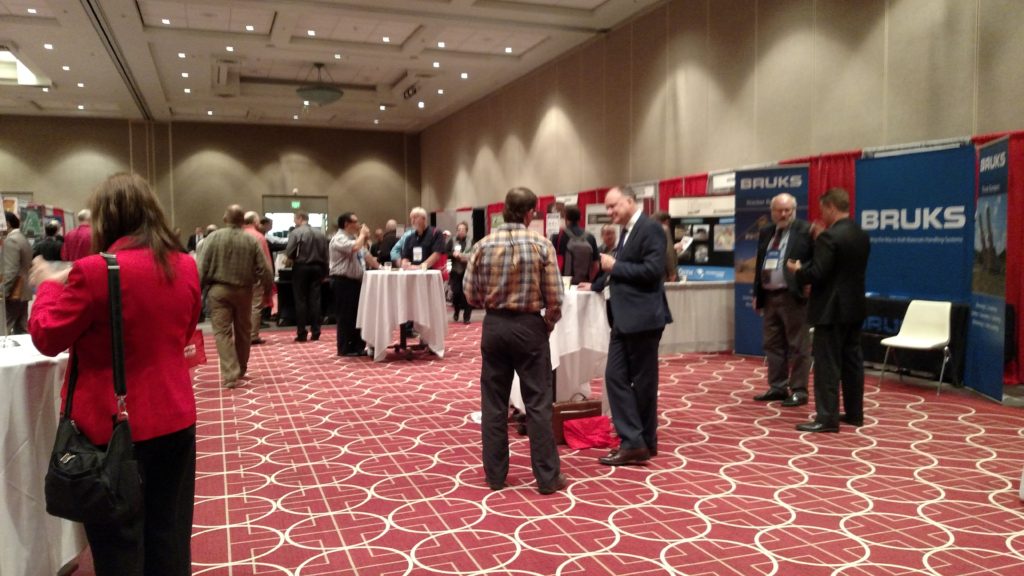 In This Newsletter:
Bioenergy supports rural jobs, minimizes wildfires
U.S. Energy Use Rose a Bit in 2016
U.S. Primary Energy Consumption/Production by source
Future supplier of wood pellets and biomass briquettes
How GM's Oats Provide Power & Purpose
Biomass Thermal Production Incentive in MN
Lunch 'n Learn Tour
Wood Stove Design Challenge
LinkedIn
Funding Opportunities
Free Publications
Ideas for SWET
Become an Action Team Volunteer
Call for news
---
Bioenergy supports rural jobs, minimizes wildfires
What is there was an endless fuel source that came from widely available natural waste products? And what if converting these products to energy supported tens of thousands of local rural jobs?
Wood can be just that fuel. In many places, it already is.
The U.S. Forest Service is working to expand renewable wood energy markets by providing technical assistance and grants to public and private sector partners through its Woody Biomass Utilization program.
U.S. Energy Use Rose a Bit in 2016; Rise in Renewables Offsets Coal Drop
Big increases in renewable energy consumption more than offset a deep drop in use of coal, pushing U.S. energy consumption up slightly in 2016, says the latest data from DOE's Energy Information Administration (EIA)
More information can be found here.
---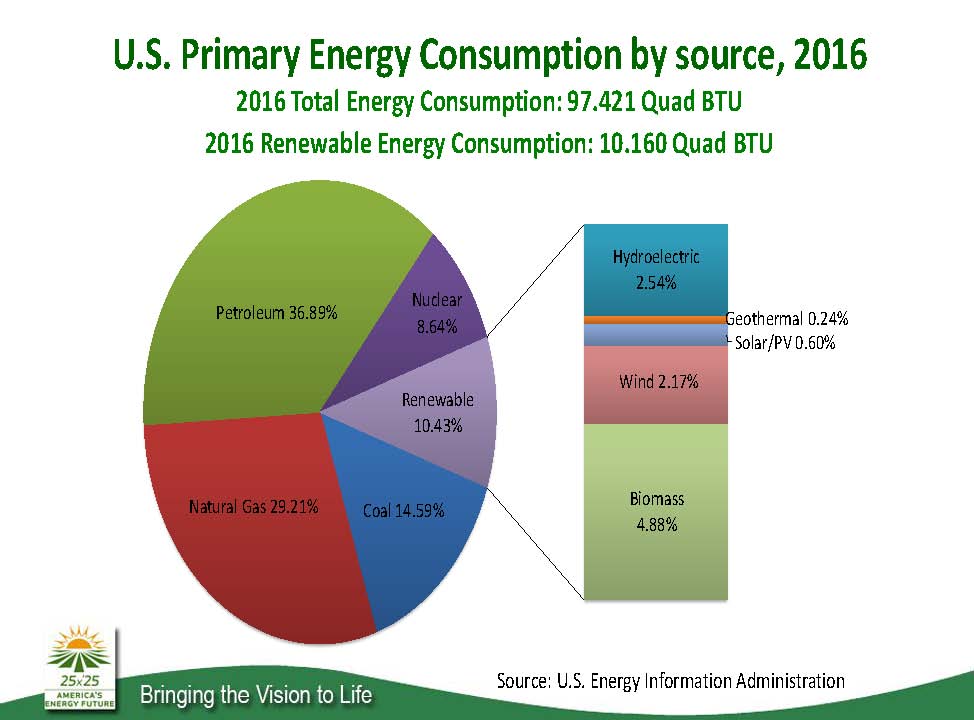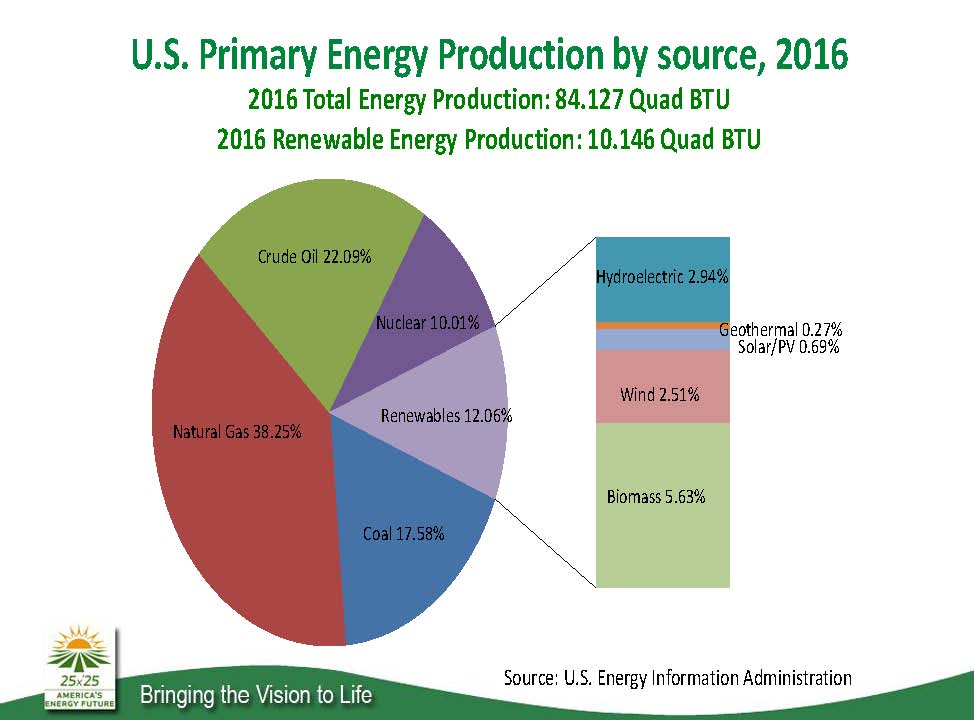 ---
Future supplier of wood pellets and biomass briquettes
A Certificate of Occupancy on a building constructed of 60 Intermodal Shipping Containers is a huge accomplishment for Paul Wever, president of Chip Energy Inc., located in Goodfield, Illinois. The containers are designed and constructed to carry freight around the world. They are built out of at least 5,000 lbs. of steel each. Once they are no longer usable by the original owner they become stacked up eyesores all over the world. Paul Wever saw the potential of using the stranded shipping containers to construct a facility that recycled waste biomass into cleaner energy sources and other valuable products.
According to Wever, "Most of the cost of producing sustainable bioenergy is the cost of getting the biomass to the processing facility. Using this Biomass Conversion Facility Depot, we will be able to profitably ship biomass, based on the customer's specifications, to their processing facility at a cost that enables them to make a profit. For more information on Chip Energy Inc., and their Biomass Conversion Facility, click
here
.
How GM's Oats Provide Power & Purpose
General Mills in Fridley, Minnesota has been using a biomass boiler since 2010. Their biomass boiler represents one of the biggest successes in their commitment to sustainability. Since 2010, the boiler has burned thousands of tons of oat hulls, which are considered waste after separated from the part of the oat used to make flour for Cheerios and other products.
As a result, they have moved away from a dependence on natural gas – burning 10 percent of their oat hulls in the boiler provides 90 percent of the steam used to heat the Fridley plant and make oat flour. And the boiler also heats the sidewalks and loading areas at the plant, to melt snow and ice in the winter.
They are featuring their biomass burner and projects with oat hulls in the latest episode of the "A Taste of General Mills" podcast. Hear from the team at the Fridley plant,
Koda Energy
and
Mountain & Company
.
Click here to view the full article and listen to the podcast.
---
Biomass Thermal Production Incentive Program in Minnesota
New or additional production of thermal energy in Minnesota obtained from biomass is eligible for the incentive program ("new or additional" means that the production was not in place before July 1, 2015). Thermal energy production from biomass combustion, gasification, or anaerobic digestion qualifies for the incentive.
Lunch 'n Learn Tour: Commercial Poultry Heating Alternatives
Please join the Agricultural Utilization Research Institute and the West Central MN Clean Energy Resources Team for a "Lunch 'n Learn Tour" on Commercial Poultry Heating Alternatives to be held in Albany, MN on May 19, 2017. A light lunch is included. Additional details and registration information are available here.
---
Wood Stove Design Challenge
The Alliance for Green Heat has annouced the fourth Wood Stove Design Challenge, returning to the National Mall in Washington, DC in November 2018.
The event will be free and open to the public and includes rigorous testing of the next generation of technology that can make wood stoves consistently cleaner, more efficient, easier to use and, like solar energy, a renewable source of electricity.
Heating the Midwest Incorporated has created a LinkedIn page. Follow the page to stay up to date with what we're working on!
Click here to follow us.
---
Biomass Magazine  and Pellet Mill Magazine are free to subscribers in the USA.  Here's link to sign up and there is also free e-newsletters, free webinars and more:
BTEC Newsletter:  If you are interested in receiving the Biomass Thermal Energy Council's weekly biomass newsletter and other news releases, you are encouraged to sign-up at:  http://biomassthermal.org/mailingForm.asp
---
Have Biomass Project Ideas for SWET?
Michigan Statewide Wood Energy Team
Minnesota Statewide Wood Energy Team
Wisconsin Statewide Wood Energy Team
Heating the Midwest- Become an Action Team Volunteer!
If you have a specific area of interest related to biomass thermal, we welcome your participation in one or all of HTM's three action teams-Biomass Combustion Technologies, Policy & Benefits, and Biomass Resources & Demographics. Is your time often stretched? No problem. Time committed to the HTM effort is volunteer time. The teams meet monthly via conference call, and calls are limited to one hour in respect of members' time and busy schedules. Members may choose to volunteer more of their time individually to support Action Team specific projects as they arise.  The work of each of the action teams involves developing "boots on the ground" projects for spurring action, discussing industry challenges in each sector and how to possibly address, networking and supporting the overall goals and vision of the Heating the Midwest with Renewable Biomass initiative in an effort to grow demand and expand marketing opportunities in the biomass thermal sector, and create awareness of biomass thermal. Following is a list of the schedule for the action team calls:
Biomass Combustion Technologies Action Team
Meets first Tuesday of each month at 9:00 a.m. CST
Biomass Policy & Benefits Action Team
Meets second Tuesday of each month at 9:00 a.m. CST
Biomass Resources & Demographics Action Team
Meets third Monday of each month at 10:00 a.m. CST
For more detailed information on the Biomass Combustion Technologies Action Team, please contact Andrew Murray (
andrew.treeguy@gmail.com
); for the Biomass Policy & Benefits Action Team, please contact Marcus Grubbs (
marcus.a.grubbs@gmail.com
); and for details pertaining to the Biomass Resources & Demographics Action Team, please contact Becky Philipp at
bphilipp@auri.org
or via phone at (218) 280-8575.