Heating the Midwest's Vision proposes that by 2025, 15% of all thermal energy (energy to produce heat) in the Midwest will come from renewable energy sources – 10% from sustainably produced biomass and 5% from solar thermal and geothermal sources. This shift has the potential to produce great economic, social, and environmental benefits for the Midwest:
Reduce consumption of 1.01 billion gallons of propane and 278 million gallons of heating oil, thereby reinvesting $2.2 billion into the Midwest economy.
Supply 17.2 million green tons of sustainable woody and agricultural biomass for thermal energy and CHP, creating more than 13,000 jobs.
Reduce greenhouse gases, improve air quality, and enhance forest management.
Vitalize communities through rural economic opportunities, new industry and innovation.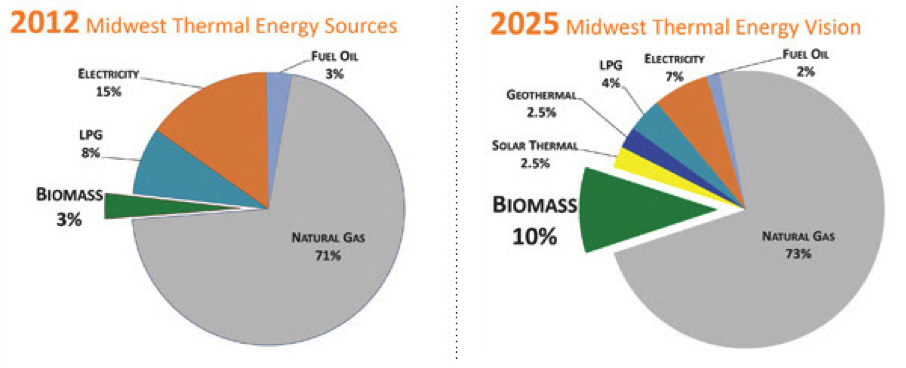 Key findings and conclusions for the Vision are in the Vision 2025 Report
Find the Vision summary/brochure here.
How You Help Achieve the Vision
Endorse the Vision

here

Contact

Heating the Midwest

or

BTEC

(BiomassThermal.org) to get involved, or offer feedback and/or ideas to improve this Vision
Share the Vision with others who may be interested. Invite them to get involved.
Raise issues that support the Vision with your governor, state and federal officials, and state legislators.